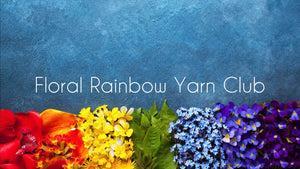 The theme for 2023 is A Floral Rainbow. Each month you will receive a carefully boxed exclusive colourway. It will arrive with an information card about the flower, a matching stitch marker or other small gift, and colour co-ordinated packaging.
You can subscribe here and shipping to UK addresses is included ("free"). Each month a different colour will be featured. Everything will be bright and bold, so this is not for the conservative crafter. An approximate guide to the main colours follows, but there will be other colours used. There will be a variety of styles and dye techniques. 

January - rich red
February - vermillion
March - orange 
April - yellow
May -  green
June - emerald
July - turquoise
August - light blue
September - dark blue
October - bluish purple
November - medium purple
December - deep pink

The sock and DK yarn is 75% superwash merino and 25% nylon. Sock weight has 420 metres per 100g skein and DK has 224 metres per 100g skein. The aran is dIscontinued.

You will be charged on the day you subscribe and then on the same date of each month thereafter. Yarn will be dyed once a month during the first week of the calendar month and shipped during the second. If you join after this I may still be able to send you the current month if there are extras available. Otherwise, you'll get the next month. I will not send duplicates to those transferring from Patreon.